• Convention 2018  • April 20th to 22nd  • Victoria BC, Canada
The Magic Lantern Society of US and Canada is set to hold its first ever Convention in Canada next year.
Apart from being a beautiful and historic city, Victoria is the seat of Provincial Government for British Columbia,
housing the Parliament Building, the Royal BC Museum and many other important buildings of architectural significance.
It is a major tourist attraction for visitors from all parts of the globe.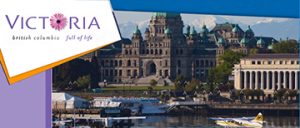 Victoria, British Columbia is always in season! With the mildest climate in Canada, Victoria is a place so temperate that flowers bloom in February. It is no wonder  that it is called The Garden City! The wild beauty of the Pacific Coast and the adventure of the great outdoors are within the city limits. Ocean and mountain vistas follow you wherever you go.
The schedule for the Convention is not yet finalized, but it is anticipated that delegates will arrive on Thursday 19th April
for registration in the afternoon. The program will commence on Friday 20th and continue throughout Saturday and Sunday morning.
There will be a banquet on Friday evening followed by an after-dinner entertainment lantern show.
On Saturday evening Terry Borton will be presenting the American Magic Lantern Theater's Spring Magic
Lantern Show with an unique adaptation and a few surprises! This show will be open to the public as well as to delegates.
A block of rooms has been reserved for delegates at The Inn at Laurel Point
There is a special booking link for our delegates. Please click on below: