Welcome!
We're delighted with your interest in joining the Society. You'll find a very warm and supportive group, whether you're an experienced collector or scholar, or a "newbie." To join, just fill out this form.
Below is a little more information about Society membership.
Membership Benefits
As a member you get the following: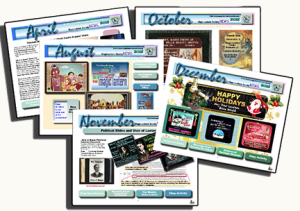 A monthly electronic newsletter full of fascinating information.
Click here to download a sample issue.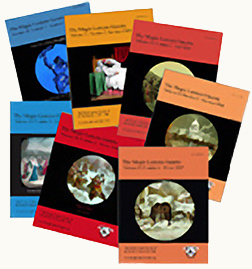 A quarterly research journal available in print and on line.
A biennial convention. Click here for more information.
And . . . lots of fascinating new friends with a flair for fun.
Who are Society Members?
We are a 100% volunteer Society based upon the sharing of knowledge. Our membership is made up of private individuals, and representatives of universities, libraries, museums, etc. All share a fascination with Magic Lanterns – whether the hardware and technology, or the slides and artwork. Some focus on showmanship, others on cultural/historic aspects, or relationships to other art forms and entertainment.
Where are Society Members Located?
While the Society's name is geographically specific, our members span the globe. Members represent 5 of the 7 continents, currently lacking representatives only from Africa and Antarctica. Eighty percent of the membership resides in North America in 25 states across the US, plus members in Canada and Mexico
What Are Members Interests?
Members vary widely in areas and levels of interest, from casual collectors, to serious academic researchers, to performers. Members are also interested in optical devices, vintage cinema, pre-cinema, literature and ephemera.
Member Interests and Activities:
Presenting magic lantern shows in as historically accurate a method as possible.
Creating new magic lantern shows using new or old slides in a unique, fresh manner.
Researching and publishing books and research papers.
Volunteering at local museums and historical societies.
Collecting, preserving, and restoring lanterns, slides, and ephemera.
Creating new slides and even building new lanterns.
Cataloging slide collections.
Buying, selling, and trading lanterns, slides, and ephemera.
Researching, collecting, and preserving a specific manufacturer or technology.
Understanding the cultural, social, or showmanship aspects of lantern shows.
Interest in a historical time period, event, or person depicted in lantern slides.
Educating children about art, optics, history, and entertainment.
Exploring the storytelling aspects of magic lantern shows.
Interest in multiple types of pre-cinema entertainment.
Join Us!
Whether you have one lantern, one slide, or have a large collection, everyone is invited to join the Society if you would like to share your interests and learn more.
Join the Society
Please print out the attached membership application pdf (Adobe Acrobat Reader required) and mail to:
The Magic Lantern Society of the United States and Canada ©
c/o Secretary/Treasurer David Evans
4920 Bench Road
Cowichan Bay, BC VOR 1N1 Canada
Please enclose your dues check or money order with your application.
If you are a person living outside the U.S. and wish to send your dues payment through PayPal, we now have an account to make dues payment easier and less expensive. The account is under the email of our Secretary/Treasurer, David Evans: The payments made to PayPal to the secretary-treasurer@magiclanternsociety.org will go directly into the account of the Magic Lantern Society of the US and Canada.