History
The Society began as a dream by a group of lantern enthusiasts in the State of Washington. Co-founders Joe and Alice Koch first became interested in lanterns after seeing a lantern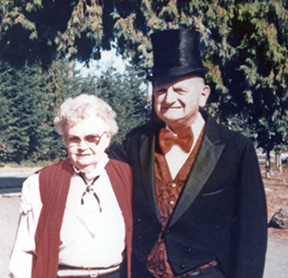 show at the State Museum in Tacoma, Washington, in 1968, presented by Bob Bishop, a.k.a. "The Old Projectionist." The Society was officially founded in 1979.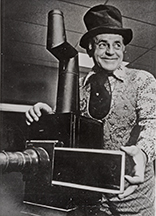 The Society is an organization of about 150 people from the United States, Canada, and the rest of the world interested in magic-lanterns—the early projectors that gave delight to millions and eventually led to the movies. Here you'll find new friends who are fascinated by the machines themselves, others interested in the art of the slides, others interested in magic-lantern showmanship, and others researching the place of the lantern in the broader culture.
You will meet collectors who have created huge private museums, and those who treasure a single lantern; professional magic-lantern showmen who perform in the nation's largest modern theaters, and amateurs who perform to amuse their friends; academics who teach in major universities, and private individuals who dig for lantern history in their local libraries; lantern "purists," and those interested in shadow puppets, optical toys, and related matters.
We see this range of interests and knowledge as one of our great strengths. We are a friendly group, and make sure that all who join are welcomed, so that we can all continue to learn about this fascinating field.
Purpose
Since the Society's founding it has worked to fulfill the following formal purposes:
1. To establish an organization of persons and entities interested in the collection, possession, conservation, restoration, and maintenance of Magic Lanterns, Lantern Slides and related material.
2. To encourage member persons and entities to share their knowledge of the Magic Lantern, Lantern Slides and related material with any interested persons or entities.
3. To coordinate research, catalogue material and disseminate all information about the history, uses, and development of the Magic Lantern and Lantern Slides.
4. To promote exhibition and shows of Magic Lantern Equipment, Lantern Slides and the known methods of use in as historically accurate a manner as possible.
Activities
There are many activities available to help the members of the Magic Lantern Society stay in contact with one another. Correspondence, both by US Mail and more recently by e-mail, has long been a tradition among Society members. This has proved to be a great way of sharing information through the diverse group. Please feel free to contact the officers as well as members in your area if you have questions or need assistance. Informal meetings are encouraged; members in the Pacific Northwest region hold quarterly meetings and in the Northeast a group meets once every two years. Contact the Secretary for dates if you will be in these areas. All members are welcome.